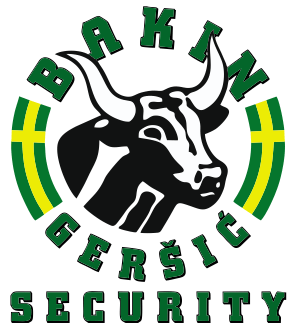 BAKIN GERŠIĆ d.o.o.
Bakin Geršić d.o.o. which provides security services in the area of Istria Region.
It was established on 15th July 1992. and has the licence to provide security services, protection of premises belonging to natural persons and legal entities, alarm reciving center (ARC) and other means and equipment necessary for engaging in security services. The licence also includes cash/valuables-in-transit.
Using up-to date equipment, cars and experienced personnel licensed to quickly and efficiently perform private security, our company provides all the services within the scope of our line of business.
Services:
• Alarm receiving center (ARC)
• Centralized superviosion of CCTV video control
• Mobile patrols
• Call out services
• Specialised guarding
• Cash-in-transit
• Bouncer services
• Short-term security system rental
Office:
BAKIN GERŠIĆ k.d.
52100 PULA, Marsovog polja 10
tel/fax: +385 52 212 724
e-mail: info@bakin-security.hr
Headquarters/Office
:
BAKIN GERŠIĆ d.o.o.
za pružanje usluga tjelesne zaštite
52100 PULA, Marsovog polja 10
tel/fax: +385 52 212 724
e-mail: info@bakin-security.hr
OIB: 71255639887
Surveillance service center 0-24 (CDS):
BAKIN GERŠIĆ d.o.o.
52100 PULA, Tartinijeva 13a
tel: +385 52 215 693
tel: +385 91 1 215 693
fax: +385 52 210 861
e-mail: cds@bakin-security.hr